What Was Tony Succar's First Passion? Not Music.
Posted by Auralex on 22nd Sep 2020
Note: Interview has been edited for brevity and clarity. The interview was conducted by Kevin Booth, Auralex director of sales. Robb Wenner, Auralex director of artist relations, produces the podcast and jumps in with questions. To hear the interview, subscribe to Auralex Creative Spaces on your podcast platform of choice.
Kevin Booth: Tony, thanks for being on the podcast.
Tony Succar: No, thank you guys for having me. I'm excited. I'm stoked. Auralex is one of the key elements for my success in the sonic delivery of my music.
Robb Wenner: I'll probably say this like three or four times, and I mentioned this to Kevin earlier. If you're having a bad day, if you're having a bad week, if you're having a bad month, and like a lot of us, having a bad year, I highly recommend that people go to your website and listen to your music because all of that goes away. It's the coolest thing, I love listening to it.
TS: Thank you. All the music that I make is very energetic. A lot of force and vibes and energy and a lot of flavor, so if you guys want some of that of your life, you'll definitely want to tune in.
In our shows, if you ever see me on a live show, man, you want to make sure you don't have any heart conditions or anything. It gets crazier.
KB: How did you get started in the music industry? What drew you to that initially? Your family all played, but was there a spark somewhere?
TS: At a very young age, ever since I could remember, musicians would just come to my living room and rehearse. The rehearsal space was the living room of my house. My dad set up all his little speakers and monitors and everybody came over. They would rehearse and they will eat after and it was kind of like a party every week.
My parents had a band, they would play all over Miami, especially in the Peruvian community, playing for a lot of weddings and private parties. At the age of 13, I told my dad, "I think I would love to play for the band because I really like what the band sounds like. And I've been practicing." He didn't even know that I was really practicing on my own. My dad bought every instrument possible and he just had it in the house. It was crazy. We had congas and timbales and all these percussion instruments, accordion, piano, trumpet, bass guitars, you could choose - it was like a Sam Ash or Guitar Center. That's when the moment really clicked for me that I wanted to do something with music. I was a really bad drummer, but my dad gave me the opportunity anyway - he kicked out his drummer for me [laughs]. That was really nice of my dad to give me the opportunity, but I guess that's what dads do, right?
I started playing in the band and I really loved it. It clicked right away, I had a blast. Fast forward to when I turned 18, I decided to study music at the university. I didn't know what I was going to be as a professional, right? I thought since I did it from 13 to 18, I had five years in it. I felt like I knew it all, I knew the industry already. But in reality, I only knew gig life. I didn't really know the recording life. I actually wanted to study computer science and become rich, make software, make money. But I quickly noticed my SAT scores weren't backing me up [laughs].
KB: Music was your fallback?
TS: Yeah, music was my fallback, bro. To give you a sort of comparison, my sister went to Harvard. She was super smart and had a perfect GPA. I was barely scraping through because I was always in a band practice and I was playing soccer. I loved to do everything except for academics, right?
When I went to college, that's when I decided to study jazz performance, which was a glorified undecided degree, right? But let me tell you, man, once I stepped through that door, I started seeing how competitive it was inside of the university. That's when it all clicked for me. That was the moment that I was like, okay, either I go all the way and become an extreme professional and master perfectionist at my craft or I'm just going to get hired at a local school and teach band, you know? That's when it really all clicked for me.
RW: Where did you go to school?
TS: I went to school at Florida International University.
KB: What artists did you admire or model yourself after?
TS: I was heavily into Latin music all my life. But I always had a passion for old-school pop. Michael Jackson was very important. Quincy Jones was my all-time guide but I was also inspired a lot by Tito Puente, one of the great timbale players but also bandleader, producer, songwriter and composer. If you notice what my description is, timbale player, producer, composer, arranger, that's the model I followed after Tito Puente. He used to play a bunch of instruments, not only the timbales, he played piano, he studied at Juilliard. He was my biggest inspiration.
I was also inspired a lot by hip hop artists like Eminem and producers like Dr. Dre. I was very all over the place with what I liked. I think that's one of the main things that helped me stand out in the Latin industry. I come from a different world and perspective. Most of these guys, they come from Puerto Rico or the New York Latin scene or Cuba, which is more focused on those particular genres. But for me, I grew up here in this in Miami, which is already a melting pot, right? It's already a mixture of people. I had a bunch of influences.
KB: And you need a different mix to stand out, right? To stand out from them or set yourself apart from them.
TS: I think that's one of the main things in the industry - you could be the best in the world, but if you don't have that one magical element that makes you different, that people can remember you for, it's going to be hard to cut through it all because there's so many people that are trying to get through that door. But you want to be that one person where people are like, 'Whoa, that guy has a cool smile.' I've mastered my smile [laughs].
RW: I love the arrangements you do. Were there any other arrangers within the salsa community or within the jazz community that you like to listen to?
TS: There's a bunch of salsa guys that I admire in terms of arrangements. The great Sergio George has been one of the greatest influences for, I think, all the people that follow that genre. Bobby Valentin also from Fania All Stars, the New York movement. There's the guy from Cuba, his name is Alain Perez, and Chucho Valdes from the band Irakere.
I think what has helped me develop my sound was transcribing, the art, the process of transcription, was one of the key things that helped me, because I learned the language of each writer by just dissecting their arrangements. I have at least 170, 180 transcriptions that I've done full-blown throughout my time as a bandleader. It was because I wanted to play new music in these clubs, and this was in the time where I was a cover band. That was my real beginning, playing in the salsa clubs here in Miami. The uniqueness of the our band was we would play music nobody else would play, because everybody kept playing the same hits on the radio while I was going back to like Ray Barretto. Dissecting the songs that nobody else would play, and but at the same time, I would use them to perform, I would use that for my own knowledge because they would stay with me. It helped me out a lot.
KB: And you're able to communicate that with the musicians, right?
TS: Yeah, definitely. It's all based on experience, to be able to know how to do anything. You just have to do it and do it enough times so you could learn from different people. As an arranger, the most important thing is to transcribe. You can never learn how to arrange by just reading books or trying to create your own thing. You have to be able to learn from those people that came before you or you're going to be lost.
KB: That would be your advice to young people coming up, right? No matter what you play, you should learn the language of music and try to play as many instruments as you can so you can communicate with other musicians.
TS: To have a producer's mind, you have to be able to learn the instruments. You don't have to learn how to play them, but really dissect them and understand what its capabilities are. Learning the capabilities of each instrument, and transcribing, because it takes me a very long time to learn the lyrics for a song. If I listen to a song once, twice, even 10 times, I still won't know the lyrics. But I will definitely know every single brass line in the song, every bass line, every guitar lick, it'll just stay saved in my mind, because that's the way I think. That's a very important thing to have as an arranger when you're listening to music, or driving your car, listen to everything and then try to sing back all those lines, because what's going to happen, and this is crazy, but what's going to happen is that when you start writing your own lines, you're going to already know what's going to work because you've heard it played already. You combine all of those different type of licks, but you do it naturally, where you're not forcing yourself to search for it. It's just already in the memory bank.
KB: How active is the Miami music community now? How's it changed?
TS: Right now, everything has changed because of the pandemic right but everything leading up to it was very active in Miami, especially in the Latin scene. Miami is kind of the headquarters of all Latin music because of several reasons. One being that all of the main headquarters of all media outlets in Latin is here – Telemundo, Univision. If you notice every time any artist needs to do like a media or promo tour, they come to Miami and they do the entire promo tour here. The Latin Grammys headquarters are also here. You'll find a lot of producers and musicians are relocating to Miami if they are concentrated in the Latin sector of music. A lot of artists live here because it's also great weather. It's a great place to be.
I'm talking in terms of production; I'm talking in terms of marketing and all that stuff. The live music scene, however, is the one that suffers the most, I think. There's not a culture for live music support in Miami. That's one of the things I think it lacks. I would say like New York is a different type of vibe when it comes to that. There's a culture for people to go to a jazz club, right and check out someone playing avantgarde, contemporary jazz music. If you put a group like that here in Miami, people just ignore it because they don't have the culture to enjoy that type of style of music.
I would love to help change the culture in Miami. Musicians here, we do movements, there's a couple of investors out there that create events to give an incentive for people, to educate them in terms of the different styles of music. The clubs here support a lot of the reggaeton, a lot of the urban stuff. That doesn't require any live musicians either. But it's great to produce here because there's so many opportunities, so many sessions happening, all the time.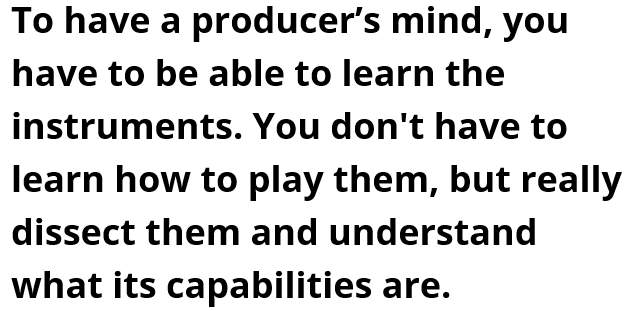 KB: Who are you working with now, anybody you want to talk about or anything?
TS: Actually, because of this whole pandemic, my role as a producer has grown exponentially. [Before the pandemic] I was doing more artist's work. I was doing a lot of shows and touring. I was producing for myself and for a couple of different little local artists or independent artists. But I wasn't doing that much stuff because I wasn't really known to be a producer of other projects, right? But when I won the Producer of the Year, that was like an explosion for me, because everybody was like, 'Yo, who is this guy?' They started looking me up and calling me for production work. And now it's like, I can't even breathe, man. There's just no time. Production work for me, it takes longer. I can go to a gig, I perform, I come back and I'm good, you know? If I get into a song [in production], it's just the way I am, I have to make sure it's amazing and perfect.
I've been producing non-stop for a lot of different artists, even working with like Republic [Records], with big major label artists, which is the first time I've ever done that in my life. These opportunities coming my way are crazy because these are projects that have usually gone to the bigger studios, to the bigger producers. Now they're saying, 'Tony, we want to record in your studio, your place, to get that exact same sound that you have, and it's like 'Wow, thanks, for believing in me.' Now I'm in the studio every single day knocking out projects. I've been working with Sheila E. We just did a single for her, it's going to be launched soon. I love it, every day is like a new thing. I have my new studio room, as well, so I can take more projects now because I have more space and I can record more musicians at the same time and have them in different spots, which is good, because with the whole pandemic, you want to have be able to isolate people and still not lose the live sound.
KB: So you've done some recording at Unity One?
TS: Yeah, like massive, nonstop. I'm cleaning like crazy, bro [laughs].
KB: For those listening, Unity One is the studio we [Auralex and Succar] worked on a couple years ago. The vibe of that studio is amazing, the lighting you have. We did our best with the acoustic treatment and placing it in there to do the room justice.
RW: Your room was one of the first times I saw someone incorporate lighting the way you did. I can't tell you how many people ask me all the time, "Where do you get those lights?" It's so beautiful; it's really cool. It's sets a great mood.
TS: That room has something magical. I started my album, it was called "Mas De Mi," the one that won the Grammys and everything. I started that album and I started recording the first song. After the first song, I went into my Chase Bank account and I was like about to die, I was like, 'What happened to all my money?' So that's when I said, 'Wait a minute, man, I gotta do 10 more songs. Let me do the math here. This is not gonna work out.' So I put a pause button on my album. I said, 'I'm gonna build my own studio, man. I'm done with this. I'm done with paying out studios and engineers and having to take all my gear every single time.'
I took my time with it. I'm so grateful that I found Auralex as the acoustical solution for my place.
I almost got scammed. There were like so-called 'acoustical gurus' here in Miami. They're like the mafia guys – 'Nah man, don't be spending all that money on all these brands, I got you bro, we're going to do the same exact amount of work and it's going to be even better.' They came with rocket science suits and measuring everything. I had to take those guys to court to give me back my deposit because I gave him a deposit and everything. I ended up winning the case and they gave me back my money, but it was completely pointless.
But I was happy because you got to go to where trust is already a given. So that's when I went to the NAMM show and then I met you Robb, and I said, 'This is where to go,' and then you guys did it. Let me tell you, the sound was so awesome that the first album I ever produced in there got me my first Grammy, and that's pretty special because everybody that goes into that room and records is extremely happy with the sound. I can't even tell you how many engineers always asked me, 'Where'd you record that percussion?' And I say, it's my place, my garage, my home studio. They're like, 'Dude, it sounds sick.' The visual part element, it's what people see and it feels good, it looks good on camera and everything. But the sound for me is the most important. Thanks for everything you guys did. I'm extremely grateful.
KB: It's a balance in the EQ of the room, right? So the panels are on offset clips, two-inch offset clips and you have nicely lit behind them, which is always cool. And the diffusers… you're varying the absorption and diffusion, the diffusion gets rid of harsh reflections but really lends to the percussion and vocals, right?
TS: That's the beauty of it that we don't kill those overtones that are important on the instruments. I record all five brass members in that studio at the same time, so two trumpets, two trombones and a saxophone. I just listened back to the one-room mic that I put up and it sounds so fire. The room sounds perfectly even. And it sounds so powerful and rich. As a producer… I'm not an engineer. I record, I track my stuff, but I'm not a guy who knows everything about frequency and acoustical engineering. But as a producer, I know what sounds good and what sounds bad. I know when something sounds right. I've seen it time and time again, I've been in rooms and studios that are of a good name here that I don't like to record in because it doesn't sound balanced. Sometimes they have too much absorption and you will get a trumpet player in there and it sounds like a MIDI trumpet because it has no overtones. And sometimes I'll find places that have too much reflection. To find that equal balance was super important and I'm totally like impressed with how, from the first, Auralex was able to know what it was.
KB: It's just about the balance of the room; you look for a microphone with the right balance and frequency for recording the subject. You think about all the gear. With speakers, you want the right balance for monitoring back and recording. You need the right balance in the room too and you have to think about that.
TS: I would say that's more important because you can have the best microphones in the world, man, but it all starts from the source. So the instrument, the musician and the room have to be top quality. You could get away with maybe a Focusrite interface versus PreSonus, right? You can have a ProTools HDX system, $10,000, with a Neumann mic, know, and you have a bad room, bro? It's a complete waste actually.
I can't work in a room that doesn't have a decent treatment because I've been spoiled, so even in my apartment, it sounds good. That's the cool thing is that Auralex has different types of solutions for different type of rooms. I've been able to experience the different products. I have the ProPanel series in my Unity One studio and then I have other types, like the SonoFlat panels and the other types of diffusers, in my Studio B room, which is a totally amazing sound, as well. In my apartment, I just have the foam, the starter kit and it sounds fire. It just depends on what you're looking for budget-wise and everything, but I think you've got to go to where the quality is and just go for what works, because if you start trying to invent stuff and DIY your own things, you're more prone to mess something up. You guys [Auralex] make it so easy and you can spend more time doing what you need to do, which is making music and everything else.
If you guys are out there listening, man, there's going to be a lot of these so-called 'acoustical gurus' out there that would try to sell you something you don't really need. Make sure you do your research. Go to where people are satisfied and have really good reviews. Auralex being the main one - it's kind of like the Nike, it's a household name for acoustics, so you can't go wrong there.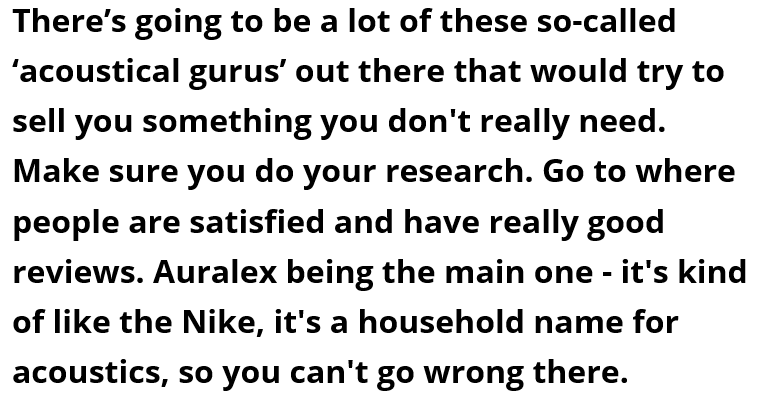 KB: What about the studio there in your house, have you named that one yet?
TS: I haven't named it yet, man, it's still up in the air. I got a lot of ideas, a lot of people telling me all these cool names. Soon enough, we're going to choose it. I think I'm going to do like an Instagram Live and pick it live. This room is super special, man. It really has transformed into something so dope, sound-wise, and visually, I did the whole Nanoleaf installation. Everybody's excited, everybody's seen it online. They're like, 'Yo, we want to go record there.' I'm super stoked about it.
RW: Being a drummer myself, I'm impressed with the Latin percussion and the cajón.
TS: Yeah, we have my signature series, the Tony Succar Cajón. It is the box instrument that was actually born in Peru. And this particular instrument is one of the first instruments I ever learned how to play. It's one of my main instruments. I would say the timbale and the cajón are my main performance instruments. I'm very proud of the signature series cajón, with Latin Percussion being the top percussion brand out there. I'm stoked about it. And we're actually working on a potential timbale signature series coming out. And I'm very excited about that, because that's been my dream, ever since Tito Puente, for me.
RW: Listening to your recordings, what cowbells are you using? They sound killer.
TS: In the percussion room, it's like a whole rack. I have like 50 cowbells; I swear it's amazing. I have like every type of tuning you need, every pitch possible. But I've mastered the art of the cowbell beating [laughs]. So whenever you have a fever, you need more cowbell, let me know.
But I use the salsa cowbell. If I'm mistaken, I use ES-2 for the cha cha bell, ES-6 for the timbale bell. Those are my go-tos. If the song requires something different, I'll go check out my stash and see which one works best.
KB: What is your signal chain? I know it probably changes by instrument, but what is your favorite signal chain?
TS: Yeah, my favorite signal chain for percussion, for example, in the Unity One studio is going through an API 512C as my preamp. In terms of my mic, my go-to mic is the Sennheiser 421, for any percussion instrument, or the AKG [C]414 mic. Very rarely, I'll use a LA-2A from Universal Audio, I use that for vocals mainly. Sometimes I'll put a bass through there, you know. But then I go in through my Pro Tools HD interface. So I have the HDX with card and everything, and I use that as my internal clock.
KB: You generally don't compress percussion on the input, then?
TS: You generally never want to compress on any drums or percussion. Because you will mess up a little bit with the sound. It's like a double-edged sword. It may sound like it has more weight, maybe, and has like some edge, but you lose a lot of the nuance sounds that you play. If you playing congas, for example, a hand percussion instrument, you're getting a lot of the heel tip action from your hand and those are softer transients, you know, compared to a slap or an open tone. So when you smash all that together, you lose a little bit of the sound of the actual instrument and I always say, play it safe, record it raw and then if you want to add some compression later on…
RW: Do you do a lot of programming too?
TS: Yeah, I do my fair share of programming. For programming, I actually now use Pro Tools completely. I've just gotten so used to working in Pro Tools and I hate to have to bounce in and export, and since I'm always recording in Pro Tools, I program in there now, which is a headache, I gotta tell you. Pro Tools needs to step up their game with MIDI input, it's just horrible, it really is. I feel like it's not there, where Logic is and all these other software [programs] that are easier, like Ableton. I used to program with Logic actually. I come from working with Digital Performer. Now I've gotten used to Pro Tools and I would say Pro Tools is definitely the best for me to edit in, so it has its pros and cons. I always speak the truth.
RW: Is there a Tony Succar sample library?
TS: Nah, man. Bro, I wanted to do that actually. I feel like I have so many cool sounds and loops that I can put together from all different parts of Latin America, Brazil, Venezuela, Spain, Peru, Puerto Rico, Cuba…
Every Latin loop out there, it doesn't sound Latin. It sounds so watered down. I don't know who makes these things.
KB: Yeah, real playing without compression on the front end: are we listening, software developers out there?
TS: It sounds so plasticky, you know? Latin music is all based on live music and that flair, that sauce.
KB: Is there something else interesting or unexpected about Tony Succar that you could tell everybody?
TS: I'm a big fan of TikTok. I'm always on TikTok and just watching videos. There are so many smart creative young people out there making all this cool content. I love to do that. I also really enjoy playing soccer. That was my passion for most of my life, playing soccer. I recently put a TikTok video of me with my old-school moves. Actually, I got sponsored by Publix now. They reached out actually. They wanted to send some stuff. They were like, everybody's a fan of you here at Publix and we should do a campaign together because that came out so cool.
I was actually trying to do that same move where I was playing soccer. My wife and I were just running and playing some soccer and it got late and I couldn't do the move, so I ended up never recording it. When we were going home, she needed to stop by Publix to buy water. She went in and then I said, 'You know what? I'm gonna try to put my phone here and do this move finally.' And the cart happened to be right behind me. I didn't even frame Publix; I didn't even know Publix was there in the background. Yeah, so just put it on that and I did it. So I posted on TikTok and then minutes later, Publix reached out and said, 'Thank you for shouting us out. We'd love to sponsor you and send you some stuff. And then maybe do a campaign with you.'
RW: Were you on a road to possibly being a professional soccer player?
TS: That was my thing, man. My goal in life was to be a professional soccer player. I played for so many traveling teams here in Miami. My senior year of high school, we were state and national champs. We were the best. We were 32-0-1, so we only tied once the entire season, won every other game. I actually got offered a scholarship, but it was like some school in Wisconsin or something [laughs]. Yo, bro I'm a Miami kid, like I don't even know how to like cook or do my laundry yet.
I ended up staying, man, and I tried to play college soccer at FIU. But the problem with Miami, this is one of these issues with the city, they got these little mafia cliques, you know, and there was this mafia in FIU with the coach; he was this German guy, bro. And he had something against Latinos, man, for some reason, and we're like the Latino capital here, right? The guy was crazy; he would cut every Latino that tried out. He would bring these people from Africa, like six-feet-tall monsters. I ended up getting completely disappointed with the whole movement of soccer here when it came to that and that's when I completely threw in the towel. I was actually suffering from a couple injuries too. All my friends from that high school, like most of them didn't go to play pro, except two guys that did. One of them played against Ronaldo in the World Cup; he became like monster star.
But was my dream, really. So like you said, music was my fallback, but I'm glad, because I won my Grammys and I love music.
RW: Do you have a favorite team?
TS: In the European League, you know, my favorite team has always been Barcelona. They got killed recently against Bayern Munich, 8-2, so it was very depressing. But I love the sport. And whenever I can play, I go out to play. You know, it's not the same, you know, my physical conditioning and like, my joints, they hurt [laughs]. They start getting squeaky. Get some WD-40.
KB: Yeah, you'll need more and more of that as time goes on… Thanks for coming on.
TS: I appreciate the opportunity to communicate with the audience here and especially aspiring young artists and producers out there that have a dream. I came from a very humble home and you don't need all the bells and whistles, you don't need the label, you don't need the investors - all you need is yourself and creativity and hard work and you'll be able to reach your dreams. It's hard to get your own space within the industry; it's difficult but it's definitely not impossible. Just try to surround yourself around good people. And just work hard, man.