Rich Redmond: Missing the Hum of the Tour Bus Engine, Inspiring Young and Old Musicians and Getting Ready for the Raving 20's
Posted by Auralex on 17th Jun 2021
Note: Following are excerpts from the full interview. The interview was conducted by Kevin Booth, Auralex director of sales. Robb Wenner, Auralex director of artist relations, produces the podcast and jumps in with questions. To hear the full interview, subscribe to Auralex Creative Spaces on your podcast platform of choice.
Interview Transcript:
Kevin Booth: How did you get started, and what prepared you for your career?
Rich Redmond: You probably hear a lot of this similar story, like, the instrument chose me, but I had this propensity or this talent that pointed me in the direction to pick a particular instrument, so for me, it was the drums. I tried the guitar, but I played it like a drum! I started taking lessons in 1976 or 1977, around six or seven years old, in Milford, CT. My first teacher showed me how to hold the drumsticks and taught me how to read music. My parents moved from Milford, CT, to El Paso, TX, which was a blessing because Texas is big on marching bands, and music education is very strong and still is in that state. I joined the 5th-grade band and, because of those early lessons, I was ahead of the other kids. I could do a press roll, and I could do a flam. I worked my way over to the timpani, learned the scales on the Glockenspiel, learned how to play the crash cymbals properly, and then The Police came out with their record "Synchronicity," and we had that thing called MTV. I was like, this is what I'm going to do! I went to a great college and studied music education because that allowed me to stand up in front of the third-period band and conduct the concert band. I could work with the drumline and teach the jazz ensemble and, I thought that could be kind of fun and, in addition to getting those skill sets together, those things really helped me just in life. I effectively communicated and taught, and worked with school kids of varying ages or conduct. There's a lot of coordination involved there, and all of this stuff really paid off later on.
El Paso, TX is in far West Texas, and there wasn't much of a connection to the music business, so I had to figure out how to get to people that could help me or educate me about the gatekeepers. It took a long time. I was 26 or 27 years old before I jumped on my first tour bus. My first gig in Nashville was with Paul Ross, and he had a society band called The Kadillacs, with a K. I cold-called Paul, and he asked for a demo tape. I gave him my demo tape, and he asked if I had reliable transportation. I said yes. Do you have a tux? I said yeah. Can you read music? I said yes. He played my demo tape, and he listened to a couple of bars and said, you're hired. So I moved to Nashville on Tuesday, and I started playing with The Kadillacs on Saturday. The gig went well, and Paul said we have a gig coming up in Rome, GA, and he was getting a tour bus, and I was like OK! I've spent many years riding around the country on a tour bus with Jason Aldean, and I've missed it this past year.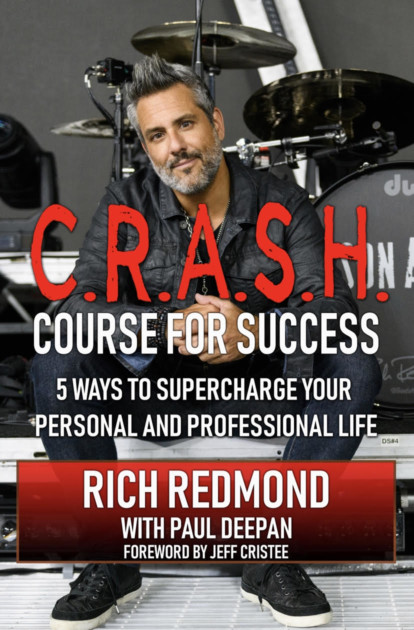 RW: Your C.R.A.S.H. Course for Success is not like any other drum clinic. Can you tell us about it?
R.R.: I'm sure there could be a more original idea out there, but I just love acronyms, so it stands for Commitment, Relationships, Attitude, Skill, and Hunger. It's very basic, but if you put all those things together in a nutshell, it could be about drumming or work for a guitar player or bass player. It could work for a soccer mom that wants to be a better version of a soccer mom. It could be somebody that wants to climb the corporate ladder, but you know it's about committing to your skillset, committing to your knowledge of your product, committing to your team, committing to your family relationships, and how important those are in life. You wouldn't have a career in the music business if you don't have friends, so relationships are essential. Attitude is so important in how enthusiasm is contagious and how positive people live longer and healthier. They have more friends, make more money and impact the world in a more significant way. With skills, that's really where the drum clinic thing usually just focuses on and what skills you need to be successful in this particular field or playing this genre and then having that hunger that burns in your belly to be successful. It's something that people can take with them. If it's a drumming event, I still use that format, and I still play with tracks, talk about reading and charting, and playing with clicks and loops and overdubbing percussion. And I include a music business 101 and talk about endorsements and all the stuff that people like to know about. I'll even have kids come up, and they'll play, and I'll give them some instant feedback like, "well, that sounds great, kid, but the high hats are soft, and the snare drum is too loud, so you have to balance that out." For the corporate environment, it's still those same takeaways, but it's modified to the particular product or service at hand, and then I still have the C.E.O. or the highest person in the food chain come up, and I have them play, and I roast them a little bit. It's like a live drum lesson in front of all of their employees. People love the drums, and people are more likely to listen to the messaging of someone that they would say, "oh, that's a cool guy, and he's not wearing khakis," and that it's not death by PowerPoint!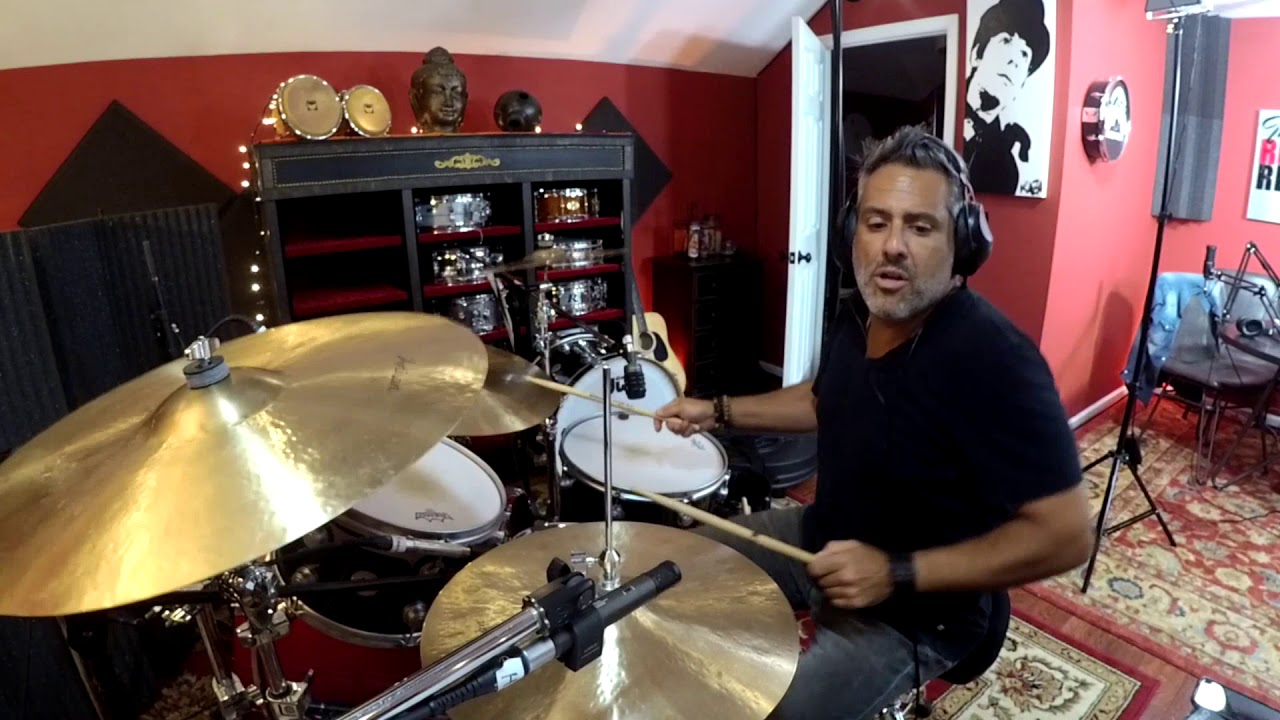 K.B.: A lot of our customers are drummers, and I think drummers recognize this most about the acoustics of a room. How important is that to you?
R.R.: In my little place, Crash Studio, the Auralex acoustical treatment brought it all together. It tightens everything up and makes it more pro and presentable with great results. And let's hear it for the front house people with live acts that have to go into different venues every day! With our front-of-house guy, it's always "how do you like the room?" and he'll say this is a dream come true and it's so controllable, or he might say, "whoa, boys, this one is a challenge." Those guys are our heroes. Then, of course, you know, in Nashville, we have all these unbelievable studios like the ones I work in all the time. There's Ronnies Place that some people call Black River, Frontstage, Soundstage, Sound Emporium, The Sound Kitchen, and Omni Sound, all amazing-sounding rooms with tons of history. And, you can treat your room and use two microphones and get great results.
Click the player below to listen anywhere you listen to podcasts!